Gillie Kleiman is an artist. Her work starts from interests in dance and choreography and manifests in various forms, detailed through this website. Her activities take place in the fields of dance and live art and sometimes in related disciplines.
Gillie did a BA in Dance and Culture at the University of Surrey, and an AHRC-funded MA in Performance and Creative Research at Roehampton University. In 2019 she was awarded a PhD in Dance Studies for a practice-centred project about non-professional performers in professional dance in relationship to post-work theory, also from Roehampton. She received danceWEB scholarships in 2008 and 2013, received an Artsadmin Artist's Bursary in 2012-3, and was part of Sadler's Wells' first Summer University cohort in 2011-2014. Gillie currently works at Leeds Beckett University as a Lecturer in Dance, is an associate artist at Dance4, and a Trustee of People Dancing.
Gillie lives and works in Newcastle upon Tyne.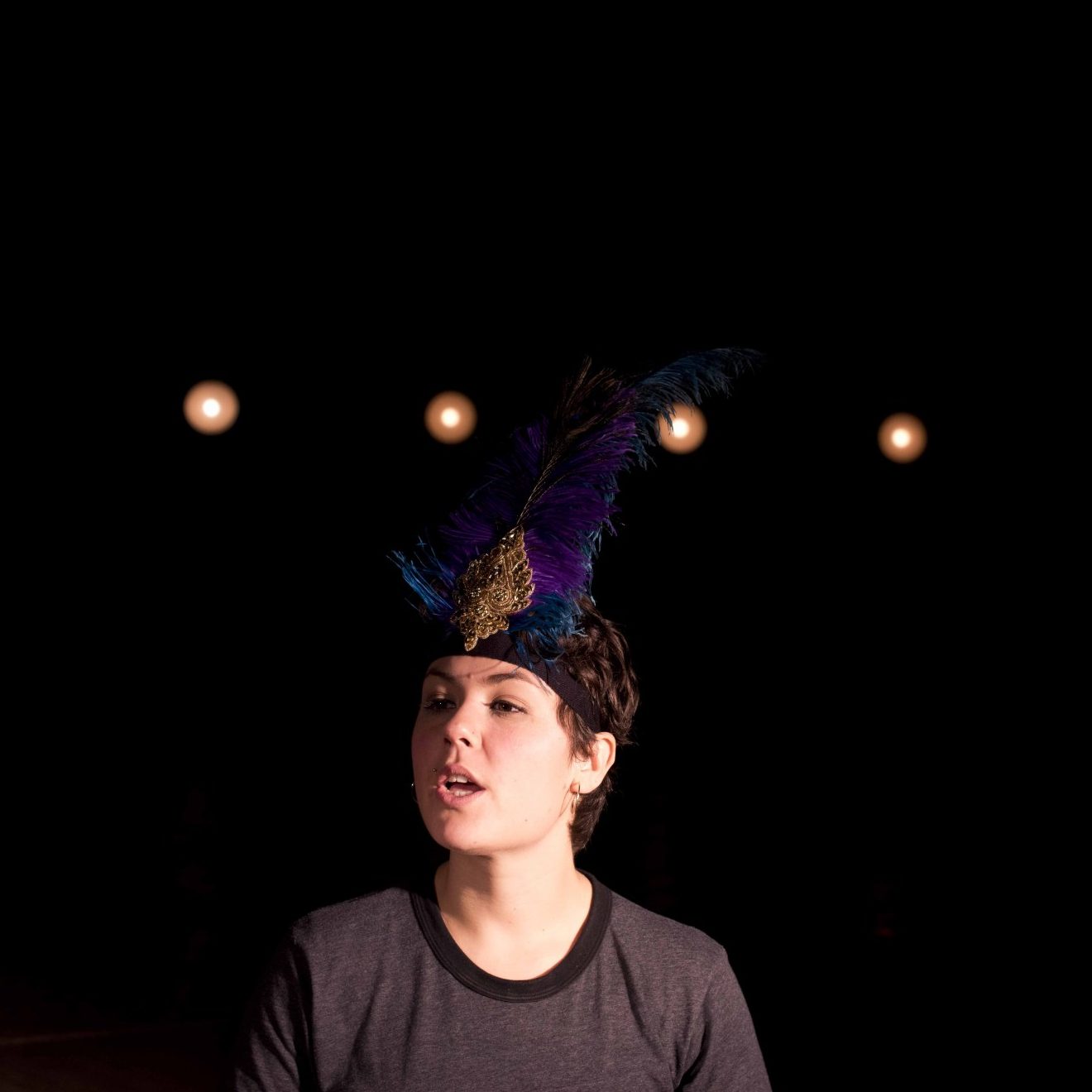 Choreography and performance
Gillie has made performances and choreographic events for spaces including pubs, dance studios and theatres since 2008, alone and in collaboration with other artists. Her work has been presented in festivals and venues across the UK and throughout Europe, and has been generously supported by grants, awards and residencies. Mostly Gillie performs in her own work, but occasionally does other things, such as having a portrait made of her by Jonathan Burrows, Matteo Fargion and Hugo Glendinning for Sadler's Wells' 52 Portraits project. More information on Gillie's choreographic works can be found here.
Writing and speaking
Gillie writes. Currently this is mostly in relation to her PhD, which focuses on the labours and non-labours of non-professional performers in professional choreography. In the past she has been an Arts Council Artistic Assessor, commissioned to write about the works of organisations in England. She has contributed to Movement Research Performance Journal, Dance Theatre Journal, The Swedish Dance History, and The Journal of Theatre, Dance and Performance Training, amongst others. For several years her main writing output was through BELLYFLOP Magazine, of which she was a co-editor and co-organiser with seven other dance artists.
Gillie speaks (sometimes too much). She has done things like offer provocations about the artist-scholar, spoken about the radical potential of community dance at a conference for practitioners, and hosted a public conversation with Keith Hennessy in a chat-show style. She has organised many situations for others to talk, including the Coffee Mornings at Chisenhale Dance Space, which she initiated and hosted (and now encourages from afar).
Teaching and facilitating
Gillie has been teaching and facilitating dance and dance-related things since she was 16. She has worked with community groups, children and young people, community dance companies, older people, and students at all levels of education up to masters level. She has facilitated dance activity in church halls, fancy dance studios and in people's homes, in one-off sessions, longer modules and long-term projects. Some favourites include working with Dance City Youth Group Mania to make performances about Britney Spears and superheroes, seeing Kingston University BA Dance students invent fake folk dances, and running the occasional DANCE CLUB in Newcastle, where people come together to watch dance on a TV, eat shared food and talk about the performance with Gillie's guidance.
Gillie also likes to support other artists' work through mentoring. Most recently she's done that with Gracefool Collective on their latest and current projects.

Image credit Camilla Greenwell